New Hampshire Summer Camp Memories
Do you love bug juice, ghost stories, toasted marshmallows and Color Wars? Then thank the Granite State, home to America's first sleepaway camp.
BY DARREN GARNICK for NHMagazine.com
New Hampshire is best known as the first-in-the-nation state for the presidential primaries, but it is also the birthplace of America's first overnight summer camp. In 1881, Dartmouth College dropout Ernest Balch bought Squam Lake's Chocorua Island and created Camp Chocorua — aimed at the children of wealthy tourists visiting the White Mountains. His goal was to prevent as many rich kids as possible from becoming spoiled brats.
A recent exhibit at the Museum of the White Mountains at Plymouth State University put it this way: "Rather than let the self-indulgence of high society erode the character of these youth, Balch envisioned a different kind of resort; one where boys could find challenge, not champagne, canoes instead of crystal chandeliers, and an earthen bed instead of fine linen. He wanted the boys to learn self-governance, the value of money, and a strong work ethic while experiencing adventures like those portrayed in dime novels."
Summer Romance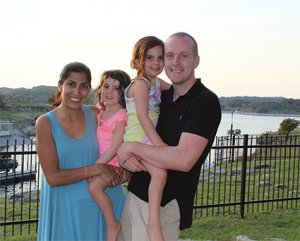 Jon and Shuli Lubin
Lawyer (Jon) and Summer Camp Administrator (Shuli)
Camp counselors Jon and Shuli Lubin never expected to find love on Lake Wentworth.
While he was a camper for four seasons (1995-1998), Jon Lubin "always wanted to see what was behind the curtain.
"This certainly isn't unique to Camp Birchmont, but when you're a camper, you look up to your counselors as role models and they seem so cool to you. You wonder where they disappear to on their days off, what they do on their nights out," he recalls.
Lubin fulfilled his goal, becoming a counselor and soccer specialist for two years before he disappeared to college. The summer of 2005, sandwiched between graduation (University of Pennsylvania) and his entry to law school (Yale Law), presented the opportunity for one last hurrah.
"I was 22 years old. My goals for returning to camp that summer were reuniting with old friends, making some new ones, and drinking every pint on the menu at Wolfe's Tavern to earn my own pewter mug on that famous ceiling there," Lubin says. "Birchmont gives staff members a lot of time off, which I think is healthy to recharge and refresh from what can be tiring days herding kids around."
During those nights out, he quickly felt a connection with Shuli, the group leader for the 10-year-old girls' cabins. "Sitting together on the camp bus turned into strolling down the streets of Portsmouth and Boston holding hands and eventually sharing our first kiss on the bus back to Wolfeboro," reminisces Lubin.
Shuli was the leader of the 10-year-old girls group at Camp Birchmont.
"It was a crazy situation," says Shuli Lubin, who previously worked at Birchmont's sister camp, Pierce Country Day Camp on Long Island. "By the end of the summer, I knew this was the man I was going to marry. I didn't go to camp to meet my husband, but it's fitting that we met there because camp has been such a huge part of my life."
The Lubins later got engaged under fireworks on the lake and married in 2009. Jon is a corporate lawyer for a private equity firm in Manhattan. Shuli is a camp office administrator for Pierce. Their daughters Brooke, 5, and Charlotte, 3, are destined in a few years to continue the family tradition in New Hampshire.
Lubin jokes that he almost sabotaged the fairy tale ending with a "Braveheart-like speech" at Birchmont's farewell campfire in 2005. "I knew in my gut that this would be my last summer there for a while and possibly forever, so I wanted to go out with a bang. In a terrible Scottish accent, I urged the whole camp to rise up and resist the tyranny of the coach buses coming to take us all home the next day," he remembers. "Fortunately, this didn't give Shuli any second thoughts about our relationship."
For the record, Lubin never did earn that pewter mug from Wolfe's Tavern, but with two future campers on the way, there's plenty of time to finish.
Download the Full Article as a PDF »
Read the full article online at nhmagazine.com »