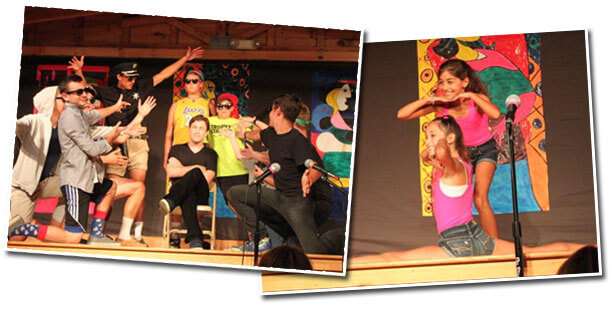 Saturday Night Birchmont campers proved "All the World's A Stage" as campers performed in 25 acts ranging from magic card tricks to vocal solos with just about everything in between. The Amazing Nandoor of our support staff kicked off our Variety Show with the most sophisticated Yo Yo act ever to grace the shores of Lake Wentworth. We did not even know Nandoor was a European Yo Yo Champion when we hired him!
Explorer Girl Rene M. followed with an original song "Do you want to go to Notches" which really could have been presented on a Broadway Stage. No real surprise as Renee won the Bunk 1 sponsored Camp Idol contest with hundreds of entries from sleep-away camps all over New England. Hilda B. performed a lovely classical dance piece as a back-drop to Renee's performance. Speaking of backdrop, Lu and Katie painted an eye-popping Picasso-esque gallery of portraits and colors setting the evening's tone for bold creativity and fun.
Jamie M. accompanied herself beautifully on guitar to the popular song "Home" and Isabelle O. and Sydney F. did a terrific dance number to "Latch". Staffer Steve F. and camper Eli G. delivered a high energy performance of the rap song "Can't Stop".
One of the nicest surprises of the evening was a captivating  performance by camper Mark E. assisted by his Counselor, Group Leader Tohmas B. Mark's card tricks were really amazing to see, and delivered real entertainment value; Marc brought a kind of a "Vegas comes to Wolfeboro feeling" as the camp wide audience participated in the fun.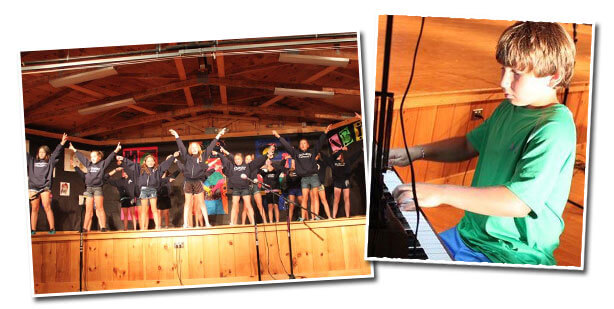 The Break Dance performed by brother/sister act Raquel and Daniel G. was one of the tightest most exciting dance routines in the show. A break-dancing extravaganza to the tune "Make Your Marks", this number brought the house down!
One of the other most memorable acts of the night, due mostly to the sheer adorable factor of the performers was the Pioneer group of girls singing a song they wrote called "We're So Campy" to the tune of the chart-topping song "Were So Fancy". Dressed in their blue Camp Birchmont sweatshirts our youngest girls did a great job with both song and choreography looking totally ready for prime-time.
Renatta G., Annika P., Skylar B., Sophie C., Sascha E., Brianna P., Antalya L., Jamie M., Aliza L., Jessie R., Sophia T. and Nicole N. all showed us their dance moves which were both exciting and well executed. The level of dance technique showed a lot of training which must have taken place throughout the year, this made for a lucky and appreciative camp audience. Two of the highlight routines were performed by Elena L. and Alejandra M., both hailing from Spain they met this summer and realized they love to dance. The girls performed to the song "Señorita" and their movements were uniquely refreshing, a perfect blend of cross cultural choreography.
Davis L.'s break dance entitled "Davis Dance" was also a show-stopping favorite, as the Pioneer boys cheered loudly for their energetic and coordinated friend hailing from Miami, Florida. There were several stand out instrumental and vocal numbers in the show. Sam G. playing the piano solo "Don't Stop Believing" became a show highlight as the whole camp joined in to deliver this rock tune which, thanks to counselor Peter B.'s Dining Hall rendition, has become this summer's camp anthem. The Cup Song was well delivered by Danielle K. and Maya B. Renee M. sounding a bit like Adele sang "Stay With Me" with great pitch and emotion. Natasha R. also had a powerhouse solo with the John Legend's top single "All Of Me". Natasha brought the camp to their feet, and although she almost didn't perform due to nerves, you could not tell one bit from her poise and perfection on stage. Genieve F. deserves a shout out as one of our youngest girls who sang one of the cutest solos. A unique song, "Rhode Island Was Famous For You" was a throw back theatrical song which covered all the states with clever lyrics, required a great memory and sense of timing. She only faltered once which generated immediate support from her fellow Pioneer girls and when she found her place, nothing could stop her. It was a quintessential camp show moment of spirit and love. Eli G. was wonderful on guitar singing Lucky Strike, and Samantha B. sung "Not About Angels" in a sweet voice which finished strong.
Counselors Andrew C., Thomas B. along with some JC's, Adam G., Jeremy K., Jacob L., danced with their campers to a hilarious parody of "The Devil In Plain Sight." Nick I., Marcus K., Jack P., Daniel G. and Bruno R. gave a high energy hip hop performance which had everybody smiling.
As is tradition, the Super Senior Girls ended the show with a campy finale. Special thanks to Performing Arts Director, Steve V., piano accompanist, Sarah A., the Emcees, Sound by Jake G., Set design by Katie B. and Lu G.