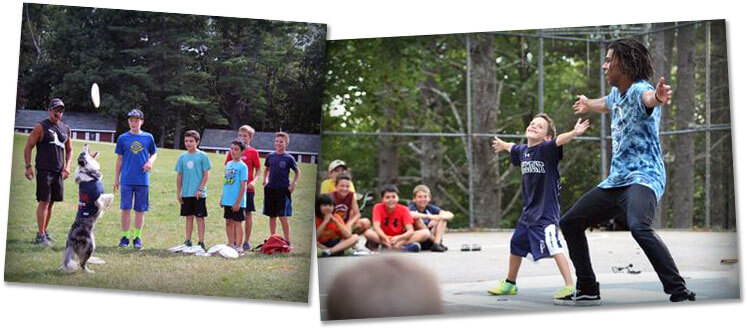 We are now officially into our second half of the summer, and all of us are here after arriving by cars, buses and planes. We hosted our 65th Parent Visiting Day on Saturday, and greeted our new campers on Sunday, and we are in full swing with camp activities and trips.
We enjoyed some great post Visiting Day entertainment this weekend with blow up rides, frisbee catching dogs and an outrageously great hip hop dance artist who involved our campers and counselors whose enthusiasm carried the night.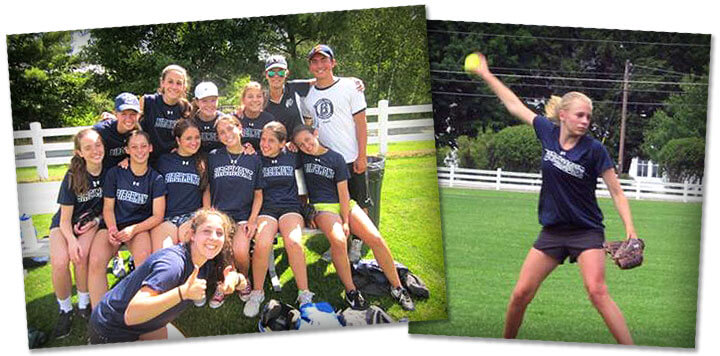 Our girls Birchmont Braves softball team placed as finalists in the Tri-State softball tournament taking second place in a full day tournament off grounds with 5 other camps, bringing back lots of pride and a beautiful trophy we held high in our Dining Hall. Congrats to Paige Lind, Erin Ahern and Sophie Cowen for their dominating pitching skills.
Our weekly trips are still underway with our Super Senior group , climbing Mt Chocorua this morning. This legendary peak in the White Mountain range will give the climbers a view of three states from the summit. Our campers know the legend of Chief Chocoura as it is one of the most well told tragic tales in regard to Native American history in New Hampshire. Then it's on to enjoy a dinner together to celebrate the climbers' accomplishment at the popular restaurant, Poor People's Pub.
The Senior boys and girls are enjoying a day at the beach. The Ogunquit beach in Maine just an hour away, offers some of the most beautiful coastline in New England, the swimming beach is vast and gorgeous, with the artist colony of Perkins Cove nearby waiting to be explored, many of our campers will be enjoying a classic "lobsta" dinner in the cove under a setting sun.
Our Pioneers and Explorers will be heading out to play on the water rides at Aquaboggan and Splashtown, followed by next weeks trips to the Polar Caves, and Lost River, both amazing natural sites in the area.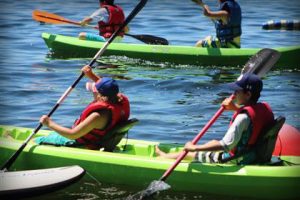 Greg and I went kayaking yesterday afternoon with the Lower Explorer Boys. We were a colorful flotilla of 12 boats, some more experienced than others. We took off from our lake on a stunning day of sunshine and still waters. Everyone paddled down to the tributary about 1/4 mile away, portaging over a spit of sand leading us into the brook where we kayaked a few miles, through yellow flowered lily pads, to a beaver damn, seeing some painted turtles along the way.
I don't bring my cell phone while kayaking, we have our radios, but I wish I had the phone as a camera. We saw a majestic eagle in the tree tops above us when we finished our paddle and went for a swim on the beach nearby. The eagle then soared over our heads, and we were all in awe, just for a moment , before splashing around and boarding our boats back to camp.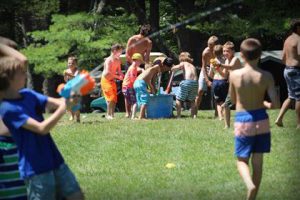 Pioneer girls enjoyed a campfire and some raspberry picking this week. And we know they had fun because we could hear their squealing to a campy combo of jokes and storytelling around the fire. The Pioneer boys and Super Senior boys bonded over water games on the field in front of their cabins with Head of boys camp Scott Shallcross and Group Leaders, Harris and Gary overseeing the fun.
We have so many camp highlights coming up… Bagel Sunday, Dance Socials, Aladin, the camp musical production, Booth Carnival, Color War, Song Fest, Banquet , and other surprises. We have many days of fun on the fields with our friends, and time in the lake to swim, sail, ski and relax. I could write more, but then I would be missing more of this wonderful camp day. Hope you are all enjoying your summer days too. We will try to keep you posted…