Just about everyone who has ever spent a summer at Birchmont can recall their "Candlelight" night(s). Candlelight is a very special tradition on the last night of the summer which mixes high running camper and staff emotions with the looming camp departure to create a ceremony wrought with reflection, gratitude and usually a few laughs for all. At Candlelight all campers and staff gather in our campfire area, sitting amongst their group and staff mates, staring at the fire and listening to first one camper – and then one staff member after another give their thanks for the summer past. Unlike our opening night "Firelight" ceremonies which split the girls and the boys to different fire pits and to lay out goals for their summer ahead, Candlelight is coed and serves as a great way to put a cap on another wonderful camp season as a coed community.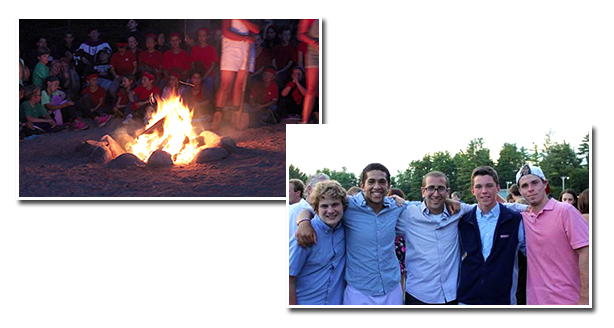 Candlelight starts with Greg and Laura standing in front of a large campfire just after nightfall, under the beautiful, tall pines up behind Notches and surrounded in a large circle by their entire 2015 camp "extended family".As they begin and light the first candles of the night, there is an almost surreal silence among the 400 or so people in attendance. Many are deep in reflection, somber at the thought that camp is basically over, knowing their departure is imminent the next morning and perhaps feeling at this point like close friends about to go their separate ways until next year.
Greg and Laura share thoughts and reflections on the summer gone by and set a mood for the rest of the evening, one that is thankful, uplifting and filled with brief stories that typically bring a laugh from the entire gathering. Once done with their comments, Greg and Laura introduce the Pioneer "B" winner along with their group leader, each of whom get to share a few words and thoughts from their summer at Birchmont in front of fire and for all to hear.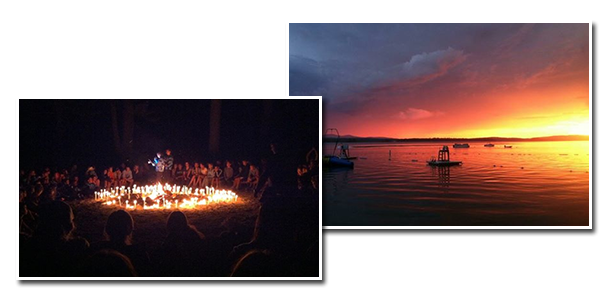 One by one, starting with the youngest group and all the way up through the "Super Senior" groups, every B winner and group leader is introduced and share their comments. At the end of each speech, that entire group of campers and their staff are invited around the fire together to light their own individual candles. The fire is surrounded by 2-3 inches of sand all the way around and candles, once lit, are pushed into the sand to create a stunning visual image that is both mesmerizing and stunning to see.
Eventually, every supervisor, all campers and all staff will light a candle that is then stuck into the sand with all the others. The result is a pretty spectacular circle of burning candles surrounding a larger bon fire. The image is a truly memorable one and for many it serves as a metaphor for how 400 individuals have, over the course of just one or two months come together to make and become a part of something much bigger than themselves… part of a very large family at camp they are likely to remember forever and a part of a very small community of friends they will always be welcome back to.
As the temperature drops, candles fade and the last logs burn down, the Super Seniors surround the fire and stand arm in arm reflecting on their camp years, flanked by Greg and Laura Pierce. For some, the idea of returning to the place they love as a staff member in a few years is comforting. For others, this marks the end of a very special era that can't be replicated and some tears mix in with their collective laughter. Happy or sad, they all share the common bond of having made so many lifelong "camp friends" and countless memories at Birchmont.
Its very true what they say, summer at camp and time, in general, move way too fast! We will miss you Supers! And for everyone else, we hope to see you NEXT SUMMER for our 65th season! We hope everyone is enjoying time home with their families and nobody is experiencing "camp sickness".
"Don't cry because it's over, but smile because it happened."
-Dr Seuss