The final camp countdown has begun.
What seemed like a beautiful endless summer of smiles and sunshine is now ending in just a few spirited days and starry nights under the Super Moon lighting up our lake and fields.
Our end of season camp musical production  was Shrek 2, The Musical. 40 campers brought this animated feature to life with rousing songs, fantastic sets, creative costumes complete with a life-size dragon puppet created by Head of Performing Arts staffer, Steve and a team at Arts and Crafts and Woodshop. With 3 Fiona's cast to represent the character at different ages, we had several female leads along with Shrek, Donkey, and a host of smaller comic roles. The show's finale to the very campy "I'm a Believer" was delivered with great energy and joy and the entire camp audience joined the cast in song. It was just one of those spirited, spontaneous moments that represents camp life so well. Literally, everyone got into the act.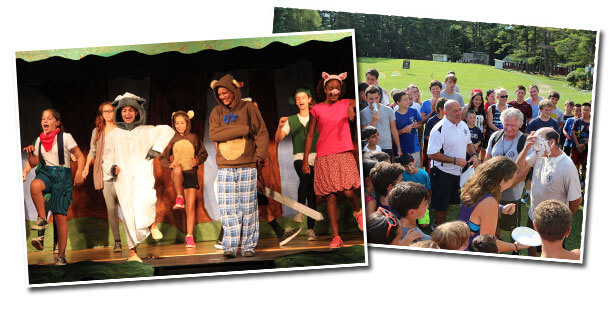 Booth Carnival kicks off our Color War which is also called Carnival Week. It's a throwback to a long standing tradition where the camp is divided into four teams by color and named by parts of a circus. Barkers, Clowns, Roustabout, and Rubes. Campers quickly learn the roles these people played in the setting up and breaking down of what was once considered the greatest show on earth. Campers come up with crazy booths run by their bunks , while fellow campers try each booth and pay with beans which are counted at the days end, with prizes given for originality and popularity. Of course there are dunk tanks, and cotton candy booths and all manner of homemade treats. This year's Pioneer Girls had the Dirty Desserty booth in which they made clear cups of chocolate pudding with gummy earthworms and crumbled Oreos on top for a muddy looking mess of deliciousness.
Games of chance, live animal Safarai , a music dedication booth,  Kiss O Gram with Hershey kiss and note delivery system never failed to surprise and delight the recipients.

At Booth Carnival's end, we announce the Color War teams and each group's 4 Lieutenants chosen by their group counselors. Every child's name is called out to join a team and campers run down the field to take their place. The weeks' activities are almost at a close now. Impossible to explain all the events, and the level of enthusiasm and all out effort put forth by our campers all week long. Each group has their own Water Carnival at the lake…and this is surely a highlight. Swimming races, swamp a canoe, sailing, wake boarding, waterskiing, even fishing competitions all culminate in sunset BBques at the beach with "beauty burgers" and roasted "Indian corn" which has been shucked and soaked in canoes of lake water, dunked in butter and grilled to perfection. People who have long since graduated from their days at Birchmont still say that corn on the beach with camp friends is one of the sweetest of their camp memories , impossible to duplicate.  Tomorrow we will have our full camp Field Day, Songfest, Friendship Pact reading and we still have our Fireworks, Banquet Ball, Camper/Counselor Day, Candlelight, Cabin Parties, Last Will and Testament… What are all these strange sounding activities… Ask your camper, they will be home soon enough. Until then we hold fast to living life fully and joyfully until each camp day is done and Taps sounds through the trees .
"The trouble with camp, is that camp ends , it ends for the summer, and then one day it ends forever….Decades later that first chilly rustle of leaves on a late August night still retains a mournful quality , that means saying goodbye to friends you won't see for 10 months, if ever again… For those lucky enough to go to camp embrace it, it is at least as enchanted as the forest of Arden"
Frank Rich
New York Times
Theater Critic, Author